A birthstone is a gemstone that represents a person's period of birth that is usually the month or zodiac sign.
What superior way to celebrate a birthday than with a birthstone? I think it would be a special gift.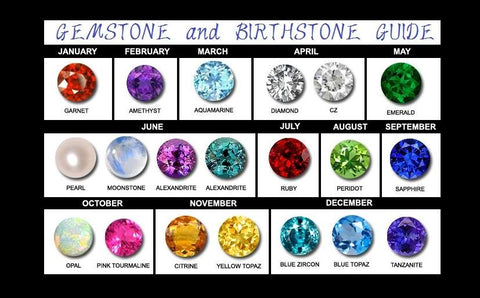 What is the meaning of your birthstone?

January's birthstones symbolize passionate friendship, devotion, vitality, and balance.

February's birthstones represents sincerity and security.

March's birthstones symbolizes honesty, beauty, and loyalty.

April's birthstones symbolize courage, strength & it is also symbol of everlasting love.

May's birthstones symbolizes successful faith, wisdom in love and domestic bliss.

June's birthstones birthstones symbolize love, success, and happiness.

July's birthstones symbolizes love and passion and is said to attract good luck.

August's birthstones symbolizes strength, honesty, loyalty.

September's birthstones meanings symbolize peace and purity, serenity, wisdom, loyalty, and faith.

October's birthstones symbolizes innocence and hope, with repeating patterns producing its renowned radiance.

November's birthstones symbolizes faithfulness, consistency, and friendship, and is thought to have healing properties to help to breathe disorders.

December's birthstones symbolize wealth, strength, protection from harm, psychic sensitivity and connection to the Spirit World.
     Just give your special one a special gift.